House Speaker Nancy Pelosi on Wednesday morning named the lawmakers she has tapped to argue the House Democrats' case on the Senate floor when President Donald Trump's impeachment trial starts.
Pelosi, with House Intelligence Chairman Adam Schiff and House Judiciary Chairman Jerry Nadler at her side, began by saying "an impeachment will last forever."
Schiff and Nadler will be two of the mangers, Schiff designated by Pelosi as the lead manager.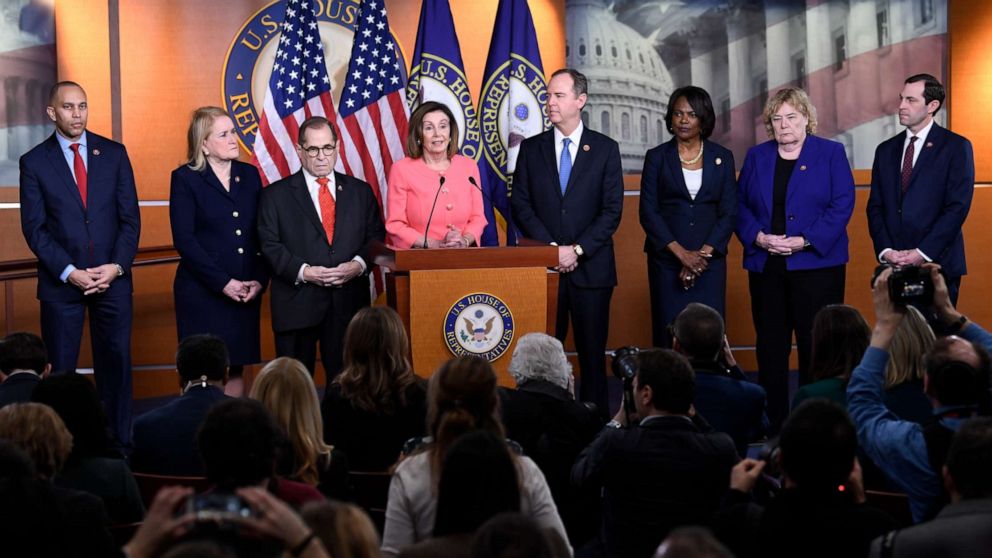 "Time has been our friend in all this," she added, noting what she called the new "incriminating" evidence that has surfaced in the month since the House impeachment vote on Dec. 18, including new documents from Lev Parnas, an associate of Rudy Giuliani, the president's personal lawyer.
Schiff said that bombshell new evidence, revealed by the House just Tuesday night, must be considered by the Senate.
Schiff added that documents will be just as important as any witnesses, citing a letter Giuliani sent Ukrainian President Volodymyr Zelenskiy and what it said about his having Trump's blessing.
"If the Senate wants to see the evidence, they should demand to see the documents," he said.
Democrats further pushed back on the comparison to the Clinton trial precedent, pointing to the fact that during Clinton, the Senate had the full record thanks to the Starr investigation and the House investigation.
Nadler also batted down the early suggestion from Republicans that former Vice President Joe Biden's son, Hunter Biden, should be called, saying he wouldn't be considered a relevant witness.
"It's important for the president to know and Vladimir Putin to know that the American voters decide who are president is. We wouldn't be in this situation had we not waited and insist that there be witnesses and we see documentation," Pelosi said.
Other managers Pelosi named were Reps. Hakeem Jeffries of New York, Val Demings of Florida, House Administration Committee Chair Zoe Lofgren of California, Sylvia Garcia of Texas and Jason Crow of Colorado. Read more