Hysteria over the novel coronavirus epidemic has sparked violent protests in Ukraine, fueled by panic and disinformation around the outbreak — even though the country has no confirmed cases of the virus.
Protests and violent clashes with police broke out in several places Thursday, as Ukraine's authorities blamed the disorder on the spread of misinformation on social media and suggested it may have been part of a deliberate campaign targeting the country.
The trouble began as a plane carrying evacuees from China landed in Ukraine on Thursday. In a village in central Ukraine, where the evacuees were due to be taken to a health spa to be quarantined, local people began attacking police and tried to blockade the convoy carrying the evacuees.
Residents at the village of Novi Sanzhary set alight tires and barricaded the road to the spa, before attacking the convoy with the evacuees onboard. Windows on some of the buses were smashed.
Hundreds of helmeted riot officers battled with the protesters and used armored vehicles to clear tractors from the road. The fighting carried on late into the night, with 24 people arrested, police said. Nine police offices and one civilian were injured.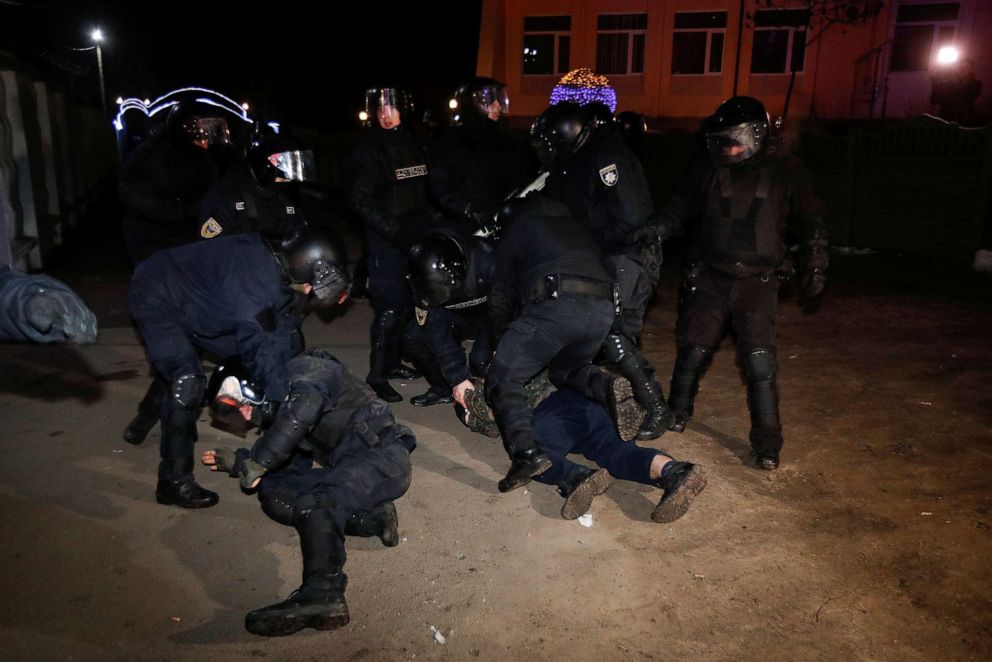 In other towns, people blockaded entries to local hospitals, fearing the evacuees might be diverted to them.
The disorder occurred as a wave of speculation online spread suggesting that the first cases of the virus may have arrived in Ukraine, including what appeared to be a deliberate disinformation campaign.
Namely, an email claiming to be from the Ukraine health ministry asserted that Ukraine now had 5 confirmed cases of the virus.
In reality, the email, which was sent to the ministry's entire contact list, was fake, Ukraine's security service, the SBU, said in a statement. The email had come from outside the country, the agency said, and the agency was investigating who was behind it.
There are no confirmed cases of the virus in Ukraine. The only two Ukrainians to be infected were aboard the Diamond Princess cruise liner in Japan and have already now recovered. Read more
Also read The Coronavirus Seems to Hit Men Harder Than Women. Why?