Hurricane Florence Mass evacuation from 'storm of a lifetime'
US East Coast residents are running out of time to flee before Hurricane Florence hits the region as soon as Thursday evening, officials warn.
The storm was downgraded to category three with maximum sustained winds of 120mph (195km/h), but officials say it is still "extremely dangerous".
Up to 1.7 million people have been ordered to evacuate across South Carolina, North Carolina and Virginia.
Four South Carolina motorways have been diverted one-way to speed the exodus.
On Wednesday, Georgia declared a state of emergency, following the Carolinas, Virginia, Maryland and Washington DC.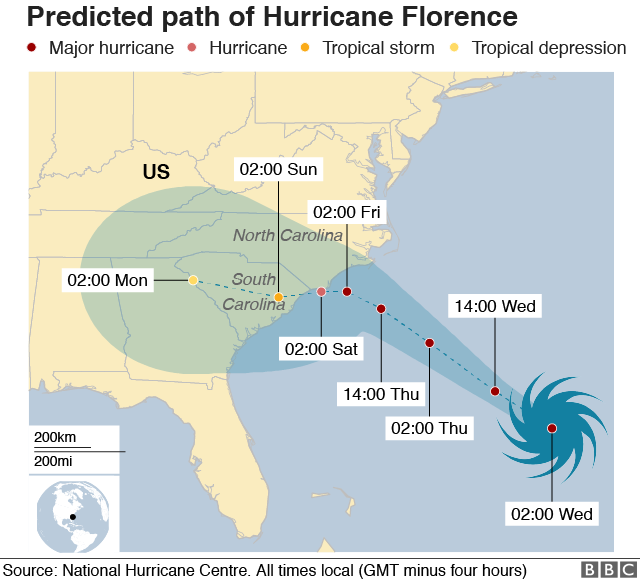 A National Weather Service forecaster said: "This will likely be the storm of a lifetime for portions of the Carolina coast.
"And that's saying a lot given the impacts we've seen from Hurricanes Diana, Hugo, Fran, Bonnie, Floyd and Matthew.
"I can't emphasise enough the potential for unbelievable damage from wind, storm surge and inland flooding with this storm." Read more
Read also: Nick Carter sexual assault charge dismissed
Hurricane Florence Mass evacuation from 'storm of a lifetime'
Hurricane Florence Mass evacuation from 'storm of a lifetime'
Hurricane Florence Mass evacuation from 'storm of a lifetime'
Hurricane Florence Mass evacuation from 'storm of a lifetime'
Hurricane Florence Mass evacuation from 'storm of a lifetime'
Hurricane Florence Mass evacuation from 'storm of a lifetime'
Hurricane Florence Mass evacuation from 'storm of a lifetime'
Hurricane Florence Mass evacuation from 'storm of a lifetime'
Hurricane Florence Mass evacuation from 'storm of a lifetime'
Hurricane Florence Mass evacuation from 'storm of a lifetime'
Hurricane Florence Mass evacuation from 'storm of a lifetime'
Hurricane Florence Mass evacuation from 'storm of a lifetime'
Hurricane Florence Mass evacuation from 'storm of a lifetime'
Hurricane Florence Mass evacuation from 'storm of a lifetime'
Hurricane Florence Mass evacuation from 'storm of a lifetime'
Hurricane Florence Mass evacuation from 'storm of a lifetime'